carrie girl
is such a treasure. it's one of those shops you come across and immediately favorite and want everything! her jewelry travel wallets are pure genius - i put one on my christmas list ;) (i always throw my necklaces in a bag and then they get all tangled, hehe) this week carrie has generously donated one of her fabulous clutches -
the penelope clutch
.
win: penelope clutch, $40 value!

Carrie has also kindly offered a 10% discount off
your
entire
purchase from
her shop
!
Excellent for gifts for friends or yourself :)
Code
: OHHELLOFRIEND
Discount
: 10% on ANY purchase
Hello! Please tell us a little about yourself!
My name is Carrie, and I live smack-dab in the middle of the Midwest in lovely Iowa City. I am an elementary special education teacher who spends most of my free time sewing and making things or thinking about sewing and making things. I started Carrie Girl a little over 2 years ago, and since then I have fallen even more in love with the creative process of bag and accessory design.
How did you get started in sewing and making all your lovely clutches and travel wallets?
I started sewing about 4 years ago when I was living in Brooklyn. On a whim, I got a sewing machine from Target, bought a book, and started teaching myself. I've learned a lot along the way by trying new things and making a lot of mistakes. Recently I saw a tote bag I made for my brother's girlfriend when I first started out and totally cringed, but it was just a nice reminder that learning to do something new is a process and that at least I had made some progress!
My Travel Jewelry Wallets are one of the first real projects I saw through from start to finish. They are inspired by a silk jewelry case my mom had from the 60's. My version is made from vintage fabric, organic cotton canvas and bamboo batting, so they're a modern twist on a very functional item. I started the clutches last spring when I became completely obsessed with scallops and wanted to use them on everything! I love the design process--each of my patterns are worked and re-worked several times before I actually get to the final product.
Where do you find all your beautiful fabric?
I try to use as much repurposed fabric as I can, so most of my stash has been collected from thrift stores and garage sales. Some of it I find by the yard or in big scraps, but others are cut up vintage shirts and dresses. I usually hit my thrift store route once or twice a week after work, and definitely on Saturdays. I try and keep my purchases just to fabric and notions, but once in awhile a ceramic deer or vintage lowball glass makes its way home with me, too.
Where do you gather inspiration from?
I'm most definitely inspired by the materials I use—vibrant fabrics, different textures and unique patterns. I love flipping through vintage craft books and magazines for color combinations and new-to-me techniques. I also find inspiration daily from the crafting community--reading blogs, checking out Etsy stores and design websites always makes me want to go home and sew. There are so many talented people out there making beautiful things in their kitchens and bedrooms. I'm often floored by it all. I have to say that it wasn't until I discovered the crafting/sewing/DIY world online that I really was inspired to start doing it myself. And it still sustains me.
Favorite inspirational blogs/shops/links:
I spend way too much time reading blogs and window shopping online, so here are just a few...
the small object
|
smitten kitchen
|
clever girl
|
etsy: quit your day job
Visit
carrie girl
and leave a comment
with your favorite item from the
shop
.
( EXTRA CHANCE TO ENTER! )
wait! there is an opportunity to gain one extra entry:
simply twitter, facebook, or blog about this giveaway
and come back and comment with the link :)




please check back next week

to see if you are the lucky winner!


giveaway ends on monday, december 21 at 8am, pst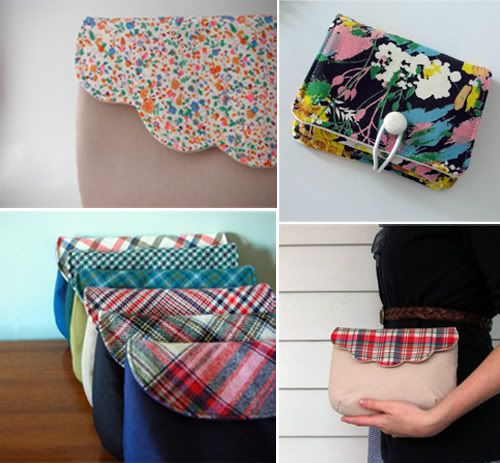 ---
ps: congrats to LORI the winner of the giveaway from
lisa leonard
! please contact me with your information! (
winner has 1 week to claim prize. if prize is not claimed, a new winner will be chosen
)