a studio tour from christie & caleb from roll & tumble press. i am inspired by these 2 simply because their method of printing is so original - no computers, no plates. all original illustrations and printing methods. read on to find out their neat printing process!
. . . . . . . . . . . . . . . . . . . . . . . . . . . . . . . . . . . . . . . .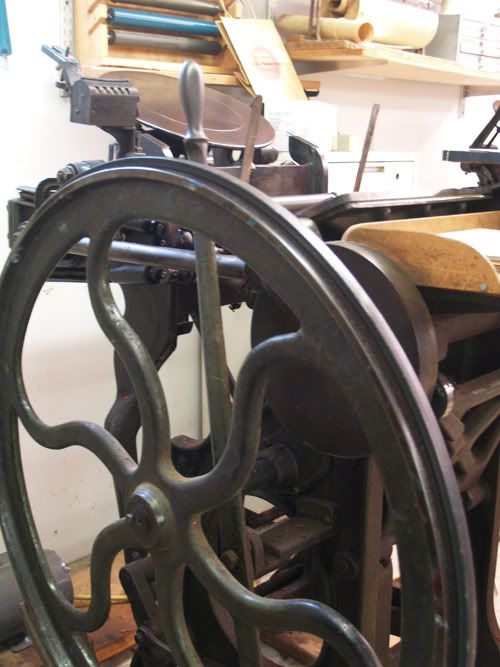 We are Christie & Caleb, partners in art and life.....when we began this letterpress adventure we lived in an old rumbly-tumbly house that was built in about 1918.....we loved it's high ceilings, huge windows and amazing front porch however three short weeks ago we moved into our new digs.....a dream home, an English Tudor Revival style home that was built in 1930. It has been lovingly restored and modernized by an amazing dude.....we are more than thrilled at the increase in space, sun-porches with casement windows, green tile roof, huge yard for our traveling dog circus( ie: four rescue pooches) and a matching little building that will house the cutest print shop a person ever did see!....all this domestic stuff happens in Lil' Ole Little Rock ( Arkansas).
Our online shop is Roll&TumblePress.....a letterpress shop where we primarily print art posters , gig posters for our musical friends and sometimes the occasional card or two around the holiday season. Our parents tell us both that we were born creative and I guess it's true.....
Christie relentless insomniac, art grad and former painter/mixed media artist turned letterpress printer and Caleb an effortless sleeper,illustrator/art school dropout turned tattoo artist....we have pretty much done all kinds of jobs......waiter/waitress, cricket farmer, visual designer for a major retailer, faux finisher, long haul trucker, shop gurl, barista.....the list goes on. We are inspired by....quirky southern stuff and phrases from the grandparents, constantly changing light and colors, snapshots of life, various and ever changing musical phases, artists of the past, old architecture and signs, typography, nature and the seasons and eavesdropping.
Each poster begins with something as simple as one image or phrase, we talk about color palette, layout, size and typography. Caleb then begins to illustrate, the line drawing then is transferred to linoleum or wood blocks (one block for each color that needs to be printed). These are then hand carved, sometimes by Caleb sometimes by Christie depending on the "style" we're feeling.....Caleb(clean and precise), Christie(folksy).....this is typically the most labor intensive part of our work....one block can take hours to complete. Once all blocks are carved we then go to the type cases and pick out the type, we use almost all antique wood type, but sometimes use vintage lead type also.....all painstakingly handset....( no plastic plates allowed). We hand mix all our inks, pretty organically, we do have a Pan-tone guide, but we don't measure, use percentages, or do any kind of math when mixing......we want to have fun with the process.....ok..ready to go to press, we pretty much use a vintage Vandercook , and hand crank that baby once for each color....so if we print 250 posters and it has 7 colors.....well, yes, that is 1750 cranks....thank goodness it has to dry between each layer, but it can be physical......Once it drys, we set up fun little "style" shots using some of our quirky collections and list them in our shop.....*poof* it's letterpress y'all.
The press we are currently printing on is not where we started......we drove 20 hours into the middle of Kansas to get our first press, way before we even knew what to do, because we wanted to be "letterpress printers".....it is not that easy, we soon realized, with the help of a true "old-timer" , many painstaking hours of learning how to hand set type, a whole new letterpress "vocabulary" , many long hours hand cranking an old press and a little luck, we were able to get this new life up and running we never did use that first old chunk of cast iron we hauled back.....but it set all this in motion, so it still is meaningful.......( we will send pics of the presses we use). Why letterpress????......in the beginning we wanted to try something new.....the methods we use,( ie: traditional ones) can be challenging.......so much art these days is produced on a computer ( which is fine), that is rewarding to actually get your hands dirty, take your time and use tools that are 100 years old......in the shop where our friend and mentor taught us, there was a poster that he printed that said......."souls dwell in printers type".....we think that that is certainly true.