hi friends. i'm really excited to have Ben Levitz from
Studio On Fire
, giving us some letterpress 101. i've stumbled upon lots of his work on fffound.com and love all of his work he posts at blog,
beast pieces
(love the name). hope you enjoy is article and this great into to letterpress week!
. . . . . . . . . . . . . . . . . . . . . . . . . . . . . . . . . . . . . . . .
Studio On Fire
welcomes you to letterpress week here at Oh Hello Friend. We've included photos of a poster we just designed and printed for your letterpress enjoyment. We've been asked to answer a few questions to kick off the week.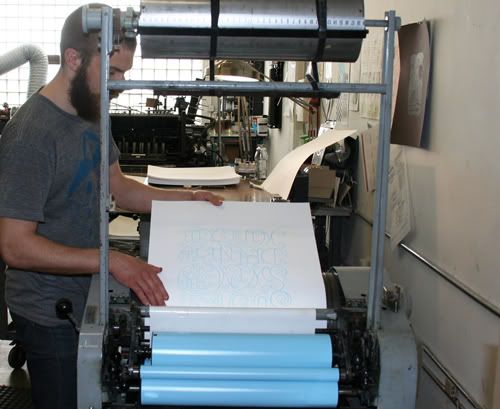 Just what is letterpress?
Letterpress is a method of relief printing. It is the process of inking a type high reversed image and then transferring that ink to a substrate, making a print of the positive image. While previous generations relied on moveable wood and metal type, most modern letterpress is achieved with a plastic material called photopolymer. Photopolymer has bridged the gap between the computer and letterpress printing presses. A digital file with correct specifications can be moved to water wash polymer plates and printed on letterpress in place of handset materials.
So why Letterpress? How does letterpress stand unique as a printing method?
Letterpress used to be the primary method of all printing. Nowadays designers have so many printing options - digital printing, offset printing, screen printing - letterpress as a printing method is such a small part of todays printing industry. However, we'll give you three good reasons letterpress is alive and well.
Tactile Design - Like to feel what you see? That sculptural impression is a primary reason for using letterpress printing. This heavy impression is how letterpress has reinvented itself over the past couple decades. Things like text, line work and patterns offer an impression into soft paper material. As a designer, if you get the artwork right and pair it correctly with a material, the resulting impression is unmistakably letterpress. It is an effect unmatched by any other printing method.
Unique Materials - Just try running a toothy 600gsm cotton stock through a digital printer. Maybe some thick blotter paper for coasters? A thick duplexed stock business card stock perhaps? Even thin onion skin stock or napkins? Yes, letterpress will print it all. Lots of special stocks that just won't run through modern offset and digital presses. Letterpress offers material versatility that is unmatched by any modern presses. Just don't ask for slick coated stocks, they don't like to take an impression.
Upscale Presentation- The materials we print on for letterpress generally cost more than going to any local quick print shop. And the time consuming nature of letterpress printing process means it is not mass produced. It has that artisan quality which sets it apart. The cost of each color makes projects printed with letterpress have a certain simplicity. Generally letterpress projects are only a couple colors. There are no slick gradients or drop shadows. We hear all the time that anything looks better letterpress. We'd say this is because letterpress makes people simplify the design.
What is your heart and passion behind letterpress?
Speaking as both a designer and letterpress printer for the past decade, I'd say letterpress is still gaining momentum as a production method. When people get a letterpress printed business card handed to them and turn it over in their hand, they feel it, look at it closer and consider it . It literally buys extra seconds in their hands. It is this notable pause that exemplifies letterpress printing as a breath of fresh air. As our society increase our digital communications and the time we spend in front of glowing screens, letterpress printing becomes an even more unique counterpoint. It is something we both see AND feel. We are tactile beings and letterpresses tangibleness makes us connect.
My passion behind letterpress printing and starting Studio On Fire goes back to studying original masters like William Morris, W.A. Dwiggins and Fredrick Goudy. These fellows truly understood and merged both design and production. A critique of todays design reality is that fewer and fewer designers understand the production method for which they are designing. As designers we have so many options, we've become generalists. At Studio On Fire design and letterpress are dating again. We are committed to making letterpress printing one of the most premium and relevant production methods for contemporary design. Understanding our niche letterpress market and offering production advice to the designers that come to us how we work. Merging design intent with letterpress printing keeps our work exciting.
. . . . . . . . . . . . . . . . . . . . . . . . . . . . . . . . . . . . . . . .
Biography - Ben Levitz, Studio On Fire
Company founder Benjamin Levitz received his BFA in Communication Design from the College of Visual Arts. He spent nearly a decade in the creative industry working with design leaders at Kilter, Larsen, and Thorburn design agencies. His creative expertise has focused on design as a branding tool for a large and varied list of national companies with work consistently appears in award shows and publications of AIGA, Communication Arts, Graphis, Print magazine and Type Directors Annual. He has served as an adjunct faculty member at the College of Visual Arts teaching advanced typography course work.
Ben's tactile design sensibility led to the founding of Studio On Fire. The studio began in 1999 with a vision of uniquely combining design and production skills in modern letterpress work. Ben left the agency world in 2006 to run the studio full time. The Minneapolis studio currently produces it's own design and letterpress projects in addition to printing custom work from for an impressive list of agencies and design firms across the United States.
(note: poster is available in ben's
shop
!)