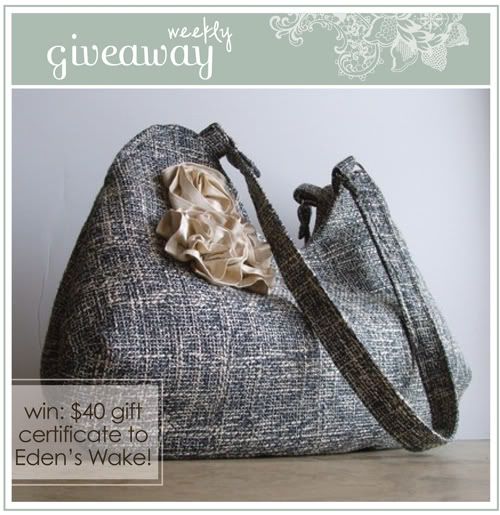 I really love mother/daughter shops. Just because I'd ideally love to run a shop with my mom, if she lived close.
Edens Wake
is run by Katie and her mom, Marsha. Thier
shop
carries a selection of pretty bags, clutches, and lovely hair accessories. this week, Katie & Marsha are generously offering a $40 gift certificate to their store, and a special reader discount!

receive 10% off your entire order
!
has kindly offered a special exclusive discount for oh, hello friend readers.
receive
10% off
your purchase -
simply enter coupon code "ohhellofriend" at checkout and you'll be refunded after purchase.

Hello, please tell us a little about yourself + your beautiful shop: EdensWake consists of me (Katie), and my mom, Marsha. I am thoroughly fascinated by people, and adore reading, gardening (a fairly new interest...I just ate a tomato I grew myself, how cool!), music, cooking, Zelda, dogs, and NKOTB.
How did you get started sewing your beautiful bags? My sister taught a sewing class to kids one summer, and one of the things she taught them to make were these really simple, but really cute, messenger bags. My mom taught me how to sew them, and I made a couple for myself - all my friends loved them, so I ended up making several as random gifts for them. While those were really simple and not anything like we make now, that's what started our interest in making bags!
What inspires you day to day? Lots of things...I live way out in the country and am surrounded be trees and flowers and wildlife everyday, so that's definitely inspiring. Also, just random things I see in my daily life...people, clothes, photographs, etc.
Any advice for aspiring small business owners? Most importantly, make sure you love what you're doing...starting any business is hard, so that passion will help give you the motivation to keep at it! Value and appreciate your customers, and treat them in a way that shows them you do. Continue learning new techniques and improving your craft, no matter how long you've been doing it.
( COMMENT TO WIN )
with your favorite item from the
shop
.
come back & comment with the link! if you twitter, please
tag it with @ohhellofriend so i can track your tweet!
( +1 MORE EXTRA ENTRY )
become a twitter / blogger follower or a facebook fan,
leave a comment letting me know which site you follow for an extra entry!
(note: please only comment once for what site you are a follower of)
giveaway ends on monday, july 26th at 8am, pst
please check back next week to see if you are the lucky winner!