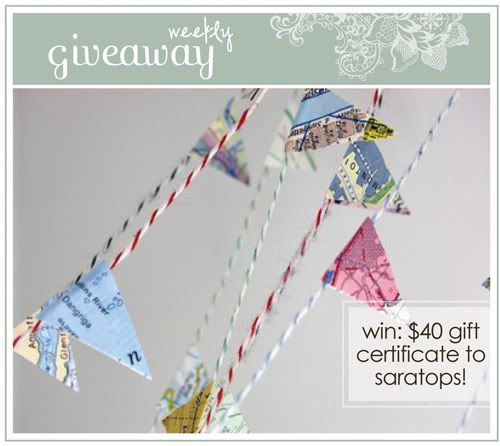 i really
love
paper goods. when i came across sara's lovely
shop
, i immediately fell in love with everything. her cute map bunting, mini gift tags, map journals filled with vintage ledger + graph paper: all my favorite things! visit her
shop
and you can follow her on
twitter
too!
win: $40 gift certificate to

Hello! Please tell us a little about yourself! Hello! My name is Sara and I'm originally from the Bay Area but am currently going to school to study architecture in Los Angeles. I also like to ride bikes (I just built a shiny new purple one) and drink tea when I'm not making new cute things for my shop!
How did you get started making your lovely paper products: I really love old vintage maps and found paper. I always had a huge collection of them, but was never quite sure what to make with them, let alone create a shop around them. I'm kind of a notebook fiend...buying little notebooks all the time without really knowing what I would use them for at the time. I figured I could easily make my own notebooks with recycled and repurposed materials that I had on hand, and from there I started up my Etsy shop, saratops.
Your shop was started within the last few months and is doing so well! Any advice for new shop owners: Make sure you really love to make the items that you are selling! To be successful you'll really need to put a lot of work into your shop. Being dedicated to your shop and working to help it grow will be much easier if you truly enjoy making the items which you are selling.
( COMMENT TO WIN )
with your favorite item from sara's
shop
.
come back & comment with the link! if you twitter, please
tag it with @ohhellofriend so i can track your tweet!
( +1 MORE EXTRA ENTRY )
become a twitter / blogger follower or a facebook fan,
leave a comment letting me know which site you follow for an extra entry!
(note: please only comment once for what site you are a follower of)
giveaway ends on monday, august 9th at 8am, pst
please check back next week to see if you are the lucky winner!
ps: i'm still up north with my mom as she starts her first chemo treatment: