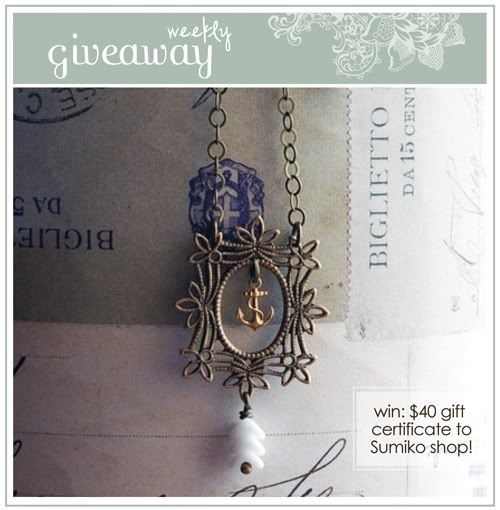 Evelyn is just the sweetest person you'll ever come across. She makes really beautiful pieces and lives in the wonderful ITALY! She runs (i'd love to live there any day)
Sumiko shop
, filled with pretty necklaces and earrings, I especially love her
Charlotte brooches
- they're so unique! This week you have the chance to win a $40 gift certificate towards anything in Evenlyn's
shop
! be sure to stop by and visit her at the usual social networking sites:

Hello! Please tell us a little about yourself! My name is Evelyn, I'm 29 years old and the mother of a beautiful boy named Brian. I live in a tourist town by the sea, in Italy. I spend a lot of time with my son, which is why I can spare the time to create and experiment with new things. I am crazy about travelling and would gladly travel around the world. I love adventure and unspoiled places… white beaches …the sun ... my dream would be to live somewhere warm all year round.
How did you get started making your beautiful jewelry? I have always had a passion for sewing clothes for myself, since I went to a fashion design school, but I also loved unique and original accessories, and I found such a joy in creating them, or seeing people wear them.
I never stopped creating whether it was clothes or accessories, but I decided to open my little shop only two years ago, around July 2008.
My collections vary greatly in style, but they all tend to be feminine, elegant and youthful. I love using vintage components, and sometimes there is a fairy tale touch to my jewelry.
Your pictures are lovely! What camera do you use? I bought my Nikon D80 a few months later that I realized that to sell on etsy, I had to have some quality photos. I never studied photography so all my photos are not really professional, but I do everything possible to improve them every day.
( COMMENT TO WIN )
with your favorite item from the
shop
.
come back & comment with the link! if you twitter, please
tag it with @ohhellofriend so i can track your tweet!
( +1 MORE EXTRA ENTRY )
become a twitter / blogger follower or a facebook fan,
leave a comment letting me know which site you follow for an extra entry!
(note: please only comment once for what site you are a follower of)
giveaway ends on monday, september 6th at 8am, pst
please check back next week to see if you are the lucky winner!
Congrats! Please contact me to claim your prize :)