. . . . . . . . . . . . . . . . . . . . . . . . . . . . . . . . . . . . . . . .
Bridesmaid Thank You Hankies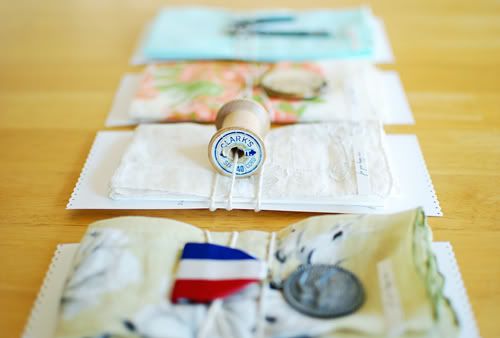 Bridesmaids have one of the most important jobs…supporting the bride. And it is important for the bride to let her girls know how much she appreciates their love and support throughout her engagement and at her wedding. A handmade message is the perfect way for a bride to thank her bridesmaids. This DIY is not only handmade but it adds a personal touch that lets each bridesmaid know why she is special. For the busy bride, this project is quick and easy but still heartfelt and unique. And the antique store pieces fit in great with a vintage, rustic wedding.
What you'll need:
-vintage hankies
-vintage knick-knacks
-cardstock
-decorative edge paper punch
-chipboard
-string
-tacky glue or double-sided tape
Directions: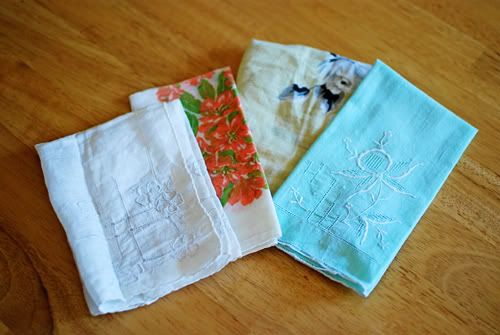 1. Pick up some inexpensive vintage hankies at your local antique store (I got each of mine for about $2.50) or use an online resource like Etsy. Depending on the condition of your hankies, you may want to hand wash and/or iron them so that they look better.
2. Peruse the antique store and look for small items that represent your friendship with each of your bridesmaids. Does a particular item make you think of your maid of honor? Does another item symbolize a particular trait of another girl? Be creative! Maybe a locket reminds you of your childhood best friend because the two of you used to wear BFF necklaces as kids. Maybe an old coin represents how you and your friend are each other's good luck charms. This gives you the opportunity to think of something unique and special about each of your bridesmaids and then give them the proper thanks.
3. On cardstock print out flat cards. Include a brief message that describes to your bridesmaids the symbology behind the items you chose. I also added a small image of each of the items, in this case a key, a spool, a pocket watch, and a medal. Make sure you leave room to write a handwritten message on each of the cards, which will have a lot of meaning to each of your friends.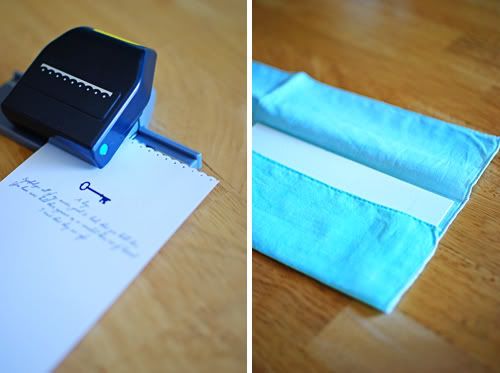 4. Use an edge punch to add a decorative border to your cards.
5. Fold your hankies to the size you prefer. For added stability, I cut out a piece of chipboard and hid it within the folds of the hankie.
6. Print out the message "for your happy tears" onto cardstock. Cut out the message and then adhere to each of your hankies. I used double-sided tape so that it could be removed without damaging the hankie - glue or a small stitch would also work.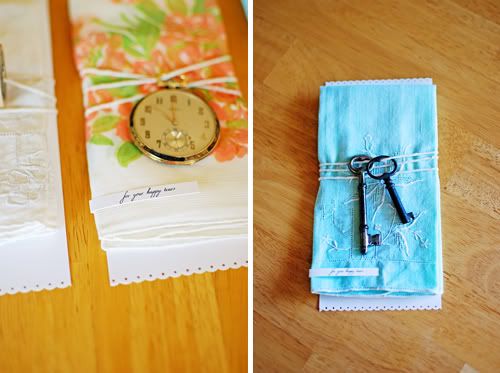 7. Place your card behind the hankie and then tie together with string, making sure to attach the bridesmaid's vintage item to the front.
8. Give to your bridesmaids on your special day along with a hug! They can use the hankie for their tears and treasure the message that you gave them.