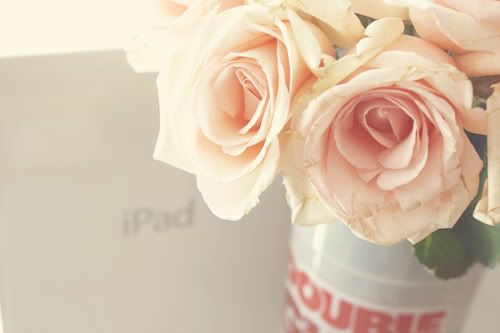 It's friday already! Do you have any exciting weekend plans?
This Sunday we will be at the Long Beach Antique Market
Update, Sunday
: sorry we won't be there after all, our van wouldn't start this morning when we tried to leave. :(
I am getting excited/anxious for
Alt Summit
- I had lunch with
Lillian
the other day and it turns out we both booked the same flight, so I'll have a flying buddy to SLC!
Nick gave me roses when I got home from San Francisco last weekend, presented in a
double gulp cup
, he's so cute. We also finally opened our presents the other day. Yea, our Christmas presents. I like to prolong things so it lasts longer ;) Anyway, he surprised me with an iPad. He was like "You can take it to alt with you and take notes and stuff" Goodness, how sweet is he?
Well I haven't left links in a while so I thought I'd leave you with some weekend links.
+
Hide & Seek Workshop
- a workshop by
Found Vintage Rentals
. I got all my furniture from Jeni at
Found
, she is amazing and so is her stuff. When I first stopped by her studio, I left saying to Nick, "How awesome is her job? I want to do that!" heh. But anyway, if you're in Orange County / Los Angeles - She is holding a workshop about starting your own vintage rental business, I bet there's a lot to know!
+
Sleeping Baby Eats Hamburger
- I twittered this a while ago but if you need a good laugh and some cuteness, watch this. It's my nephew and I just think he is the absolute most adorable baby ever. I'm not bias at all! ;)
+
5 reasons why bloggers quit blogging
- This is such an interesting site with a lot of great articles. I thought this one was interesting, because I so often come across blogs that aren't posting anymore. So maybe this will help you to not become discouraged. I also thought
this article
was interesting too..
+
jcrew extra 40% off sale items
- jcrew is doing an extra 40% off sale items + free shipping on $100 or more. so tempting! use code "MUSTHAVE". Can I justify spending $100?
Well that's all I have for you, sort of random stuff ;) Hope you all have a wonderful weekend, see you on Monday! xo.