Goodbye to the old blog design!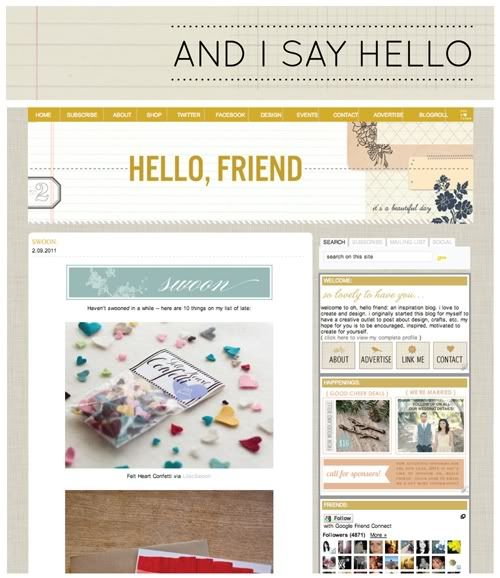 and hello to a new design!
Hello, Friends. The new blog design is here! If you're reading oh, hello friend in a reader,
click out
now to visit the blog! I worked all weekend long on fixing it up and am excited to finally share it with you. Thank you to Ana from
Live and Enliven
who helped me with coding the whole thing.
So just a little tour -- at the top you'll notice some tabs including a super spiffy 'search' box and a mailing list feature! I finally have a
mailing list
(using
mailchimp
service, thanks to tweeted recommendations from friends) so I hope you sign up for news, specials, discounts, & happenings at the blog!
Everything else is pretty much the same for layout, you know I love this 2/3 column design. I did move 'the daily' feature buttons to the left. Oh, and I finally finished putting together my first-ever official + legit
blog roll
, complete with pretty banners and real working links! (took entirely way too long but hope you like it) There are some new features coming soon and I am also hoping to open up a couple online shops (see banners to the side) so that's coming soon too!
So that's it! It's a different feel than the old layout and I kind of am already missing the old design. But it was definitely time for a change. What do you think? I hope you like it, have a wonderful day!