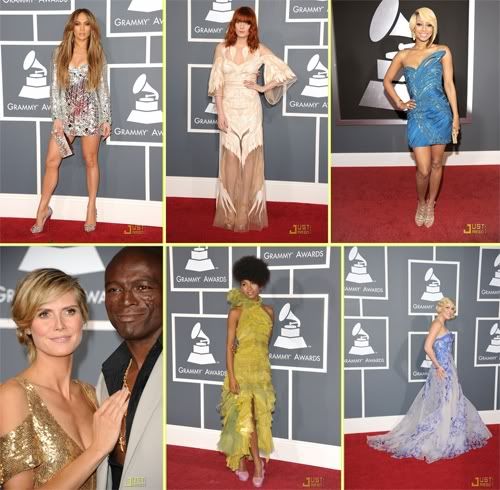 Time to get your thoughts on the
Grammy
fashion this year! Did anyone watch it last night? I watched it with my older bro & Nicholas. Seems like just yesterday we were talking about the fashion from the
Golden Globes
!
So the top photos are my fave: JLo looked so pretty, as always and that dress was so sparkly on tv, it looked like tiny glass pieces. Florence Welch's dress: fabulous. (more thoughts below) Keri Hilson's dress was pretty & Esperanza Spalding's dress was so ruffly and I loved the green/yellow color of it. I think Natasha Bedingfield's dress made it on some 'worst dressed' list but I thought it was lovely! I stuck Heidi & Seal in there cause I think they are such a cute couple and Heidi looks gorgeous!
Feathers, muppets, and Gwyneth = love.
My favorite performance of the night.
Wow to Florence Welch's swan dress! It was totally my favorite, it was so beautiful & detailed and so vintage-looking! Was anyone thinking it could also be a fabulous wedding dress, or was it just me? ;)
So in other news, Justin Bieber did not win Best New Artist - Esperanza Spalding won. As you can imagine, there was lots of twitter rage and Beiber fans even
vandalized
her wikipedia page, which I think is really sad. What are your thoughts?
Well the
Oscars
are coming up in just a couple weeks so looks like we'll be back here again soon. Happy Valentine's Day friends! (Be sure to check back tomorrow for a
new look
)