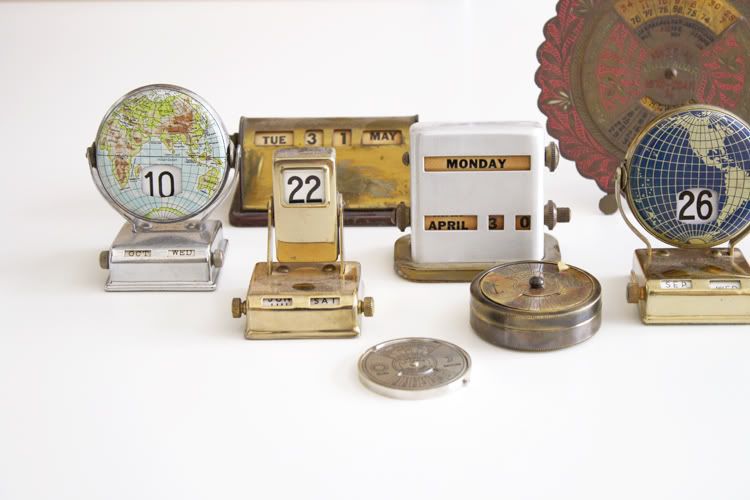 So all this talk about collections, I thought show you a picture of one of the collections I have - perpetual calendars! They're all vintage, they really don't make them like they used to. I don't know when I first started collecting them, I just think they're really fun. Of course, I don't have the right date set of any of them, haha.
So Nick
gchats
me random links throughout the week and sometimes I
tweet
them, but I thought I'd do a little round up and share them with you here. These are all from my cute husband ;)
*
Log ride proposal
- such a great photo & creative way to pop the question!
*
Pirate Ship Playhouse
- the ultimate kid playhouse, at a pretty ultimate (
high
) price!
*
LetterMPress iPad app
- in the works, looks pretty cool.
*
Baby's first grapefruit juice
- kids are so funny.
Hope you enjoyed those... & here are a few of my links for the weekend:
* I
mentioned
our
wedding invites
were featured in Real Simple - they posted it
here
at their site! We're 'Hip Hometown Flair' ;)
* Frolic had a great discussion about
crediting photos properly
. I can't admit I've always credited photos properly - when I first started my blog I would use a little + plus sign as a credit. That's not crediting at all! heh. I think Chelsea brought up a lot of great points, check it out.
* if you're a
fan
of glee, you must watch
GLEE mini-me's
- so cute!
* if you're
local
, there's a
food truck fest
going on in LA this Sunday!
So what are you up to this weekend? I think we're heading up north for a quick trip to visit my mom. See you bright & early on Monday, wish you all a most wonderful weekend sweet friends.