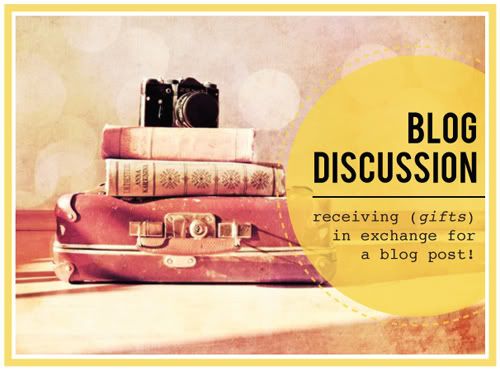 Hi friends! So in the spirit of promoting community, I've decided to start this new column titled "blog discussion" - where a topic is posted and we discuss it! Super simple. The topics will be mainly related to blogging, since that's what we all have in common, but there may be some other topics thrown in along the way. Some of them may be controversial. But I know you guys and trust that we can all be nice and respect one another's opinions :)
The reason this came about was because I recently had a situation where I faced with what we're talking about today. I honestly did not know what to do and I wondered what you, my dear readers, thought about the subject.
So today's blog discussion is: receiving items for free (aka gifts) in exchange for some sort of blog post/advertisement/promotion.
In my situation - I was basically invited to go on a trip to attend a conference. The subject of the conference was not really related to my blog, and there was really no way to spin it where I could tie it in. A trip did sound really fun, but I just couldn't do it. Occasionally I'll get an email from a company that wants to send me their product in exchange for a blog post or review. I usually just turn it down because even though it may be a cool product, it's just not related to the content of my blog. While I don't want to compromise the integrity of this blog, at the same time I think it's fun to get free stuff ;)
I think that at a certain point, if your blog gets to super-star status, lots of shops will shower you with free stuff in hopes that they'll get a post on your blog. I think that's understandable.. One speaker at ALT told us about how she gets lots of things sent to her, and I'm sure her readers know the items she blogs about are things she receives for free. But some blogs I come across have a disclaimer stating that they don't accept things in exchange for blog posts.
We learned at ALT that trust with your blog readers is #1. If I started posting about random things unrelated to this blog only because I was getting free stuff, would that upset you? Cause you to unsubscribe? Would you care? If it was fully disclosed in the blog post, would that be okay? Perhaps there are some of you out there who are all for accepting free things! or don't care if a blog accepts free things & posts about them. I don't know, but I am quite curious to know your thoughts! Have you ever accepted anything in exchange for a blog post? How did it go over? How do you feel in general about the overall topic?
So yea, based on how this discussion goes, next week I'll post about a free car I got. just kidding! I wish. That would be pretty awesome though, huh? ;)