I know I haven't mentioned anything about
Japan
, and I didn't want you to think I didn't care. As much as I try to provide inspiration & happy posts throughout the week, in reality there are things happening in the world that go beyond pretty pictures.
The footage is unreal, even the photos above I can't comprehend the magnitude of what is happening in them. 9000+ are missing in just one village. It definitely puts things in perspective for me. This past weekend lives were forever changed while I went to a flea market and spent money and shopped. I don't know: I feel like it's so meaningless when families are worrying, wondering, waiting for news of their loved ones.
There's a lot more going on beyond my day to day and trivial petty issues. Last week we found out Nick's sister is getting a divorce, which is heartbreaking because a family is now torn apart. She's really having a hard time, and her 3 beautiful kids will now grow up without their dad. They're all under age 5, and my heart breaks to think of them as they deal with their lives being forever changed.
So I'm dedicating this post to anyone who is struggling - whatever you're going through: don't loose hope. I tried to find some inspiring images to share with you. Print one out, hang it nearby or set it as your desktop background. I hope you are encouraged today, friend.
source unknown.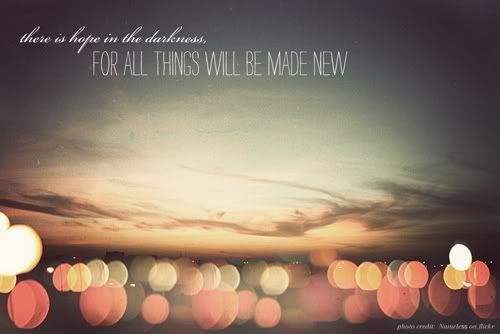 The above graphic I added some text, it is inspired by Revelation 21:5. There is such hope to be found in the One who gave His life for us - can you imagine a day when there will be no more tears or sadness or death? I think the verse 4 is so poetic, "He will wipe away all our tears." Wow. I can't wait for the day when this war is over, and He welcomes us home.
Those are just my beliefs, yours may be different. But thanks for letting me be open with you about them.
Regardless of what you believe though, let us continue to pray and encourage those who are hurting, struggling. Let us rally as a community and send support to those in Japan who are lost, scared, needing rescue, needing hope.
Lydia
& the girls from
Utterly Engaged
are holding a
bloggers day of silence for Japan
, this Friday the 18th. I'll be participating so there will not be a post this Friday. If you'd like to participate as well, that'd be great too. All the details about it, as well as how you can help, can be
found here
.
But I know there are lots of organizations out there to give aid. Yahoo has a list compiled
here
. You can also donate via text: text
MED
to 80888 from any mobile phone to give $10 or text 90999 to donate $10.00 to
red cross
.
Thanks for reading through this post, friends.