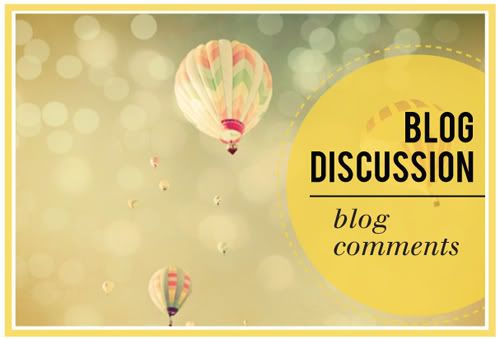 Thanks to
eyeful
for the beautiful photo above!
Today's topic is blog comments! Wondering what your thoughts are in general about blog comments? Are you a commenter or do you like to stay behind the scenes? Do you think commenting helps get you noticed? Do you just leave comments for the purpose of promoting your own site? If you're a blogger, do you reply to the comments are your blog? If you're a reader, do you appreciate replies? Is blog comment count something you notice when you visit a blog? Perhaps the first thing you look at? Do you think it determines the size of the blog?

There are so many discussions that go into this topic of blog comments, so feel free to share whatever thoughts you have about them ;) I've heard that a blog with comments is what sets your site apart from just being a website. Comments is what makes your blog a blog. An article from
handmadeology.com
states that "Comments are the lifeblood of any blog." They also have some other interesting articles about blog comments such as,
Is commenting on blogs a smart strategy?
,
10 Techniques to Get More Comments on Your Blog
, &
the ultimate guide to blog commenting
.
My own thoughts about comments is that they are a great way to build community and cultivate a special relationship between the blogger & the readers. I think they are a great way to show support & love to the blog you're reading and I personally need to get out and comment more! I don't think a blog's success is determined by how many comments that blog receives though.
In my own experience, there are 3 people who stand out in my mind who I could always count on a comment from. It actually helped me remember their names and click to their blogs - just because I was receiving comments from them every day and I really felt their support through it. I've actually met these 3 girls in real life since:
Dionne
,
Sandy
, and
Lillian
! So perhaps consistent commenting works! I'm not saying you should start leaving comments every single day on every blog you read. I just think this certain example was interesting. Do you have any comment-related stories to share?
Well, I don't know if I covered the points or topics I meant to cover in this discussion. Plus it's quite late as I write this and my thoughts are really scattered. ;) But I know I am super fortunate to have such a great support and community here at oh, hello friend - thank you for all your comments you take the time to leave. I don't think I can really ever thank you enough, friends. Hope you enjoy the discussion today!