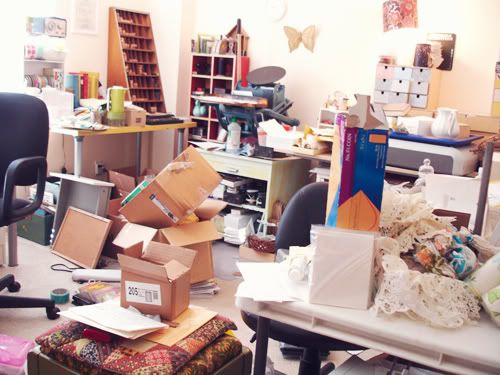 Hurray, Friday is here! Okay, so the current state of our place is messy! Don't judge :) But sometimes it's discouraging looking at all the beautiful images of offices and home decor magazines. I sometimes think to myself, hm. Can one's work space always be perfectly neat and tidy? Maybe I should just accept the fact that I'm not the most organized person in the world. Embrace my messiness!
Well, we are trying to clean up and make our house a home. I asked my husband what he wanted for his birthday and he says, "a clean house" so I've been trying to clean up, organize, and sell as much stuff as I can!
This is random but I thought I'd share it with you cause I'm proud ;) I
tweeted
this pic but that 3rd guy in from the left, that's my great uncle! Yea, he's just chillin, standing next to Angela Jolie. Has anyone seen Kung Fu Panda 2 yet? He was the voice of Mr. Ping. He's been in a lot of things actually, over 350 titles at
imdb
! Maybe you've seen him around. Nick & I haven't seen a movie in a really really long time, but we're hoping to see it.
Anyway, if you're in the LA area this weekend, I highly recommend stopping by Kim & Brandy's
charity bake sale
tomorrow! Get yummy treats and support a good cause.
What are your weekend plans? I just want to sit, relax, and enjoy not being at a craft show this weekend! Hope you all have a beautiful weekend, see you on Monday! xo.