The lovely package exchange for winter 2011 is here! I started the lovely package exchange in 2009 as a fun way for the blog community to get involved with each other. My hope was for participants to find new friends within the blog community and express creativity in sending a really thoughtful 'lovely' package. The 2010 exchange was a bust, I totally and completely dropped the ball. People signed up, actually, 550 people signed up. I sorted through about 400 of the sign ups. Then nothing. Awkward, I know. Deep apologies to anyone who has been around that long and did sign up. Anyway, it's back. For real this time, promise! This will be a fun gift swap for the holidays. Read on for details!

Swap Partners: You'll receive 1 swap partner, so we can focus on putting lots and lots of effort into our lovely packages!
Swap Dollar Amount: This is a gift exchange, with emphasis on the packaging. So suggested amount to spend on a gift is around $30 before shipping cost. The $30 can include packaging for your gifts as well, but please don't spend $20 on packaging and only send a $10 gift. If you own a shop, please don't send only items from your shop to promote your own shop.
Overseas: Unfortunately due to some people not receiving their packages from overseas, friends in other countries will be paired with people in their own country. There will be no option to send or receive from overseas. If you are in the us, you will receive a partner in the us and if you are in Europe, you will receive a parter in Europe.
Interests: The form includes all necessary information so please fill it out thoroughly :) Be sure to include any favorite links, etsy shops, etc so you can give your partner an idea of the things you like.
Flickr:
Please join the
lovely package exchange flickr group
! Feel free to post all your images of packages sent and received! Please add package images for inspiration as well if you want.
Deadline & Dates: First 125 sign ups will be accepted. Sign ups will remain open until Saturday, November 12th or if there are 125 sign ups, whichever comes first. Partners will be assigned Wednesday, November 17th and packages must be sent by December 10th.

The requirement for this swap is that you must have some sort of reliable web presence online to participate -- blog or shop (link must be active, ie: you can't have a blog that has one or two posts from 2009)
Please note filling out the sign up form is your contract - you are committing to sending a great package! Please plan to put some time and effort into the things you send, as well as how you present it.
If you'd like to sign up for this years swap, simply fill out this form and leave it in the comments section! Please do not email me your forms, it is very hard to keep track of comments and emails and who signed up where - I will be sure to get to all the information here. If your form is incomplete or there are problems with your website, I will unfortunately have to skip over it and move to the next sign up.
Name:
Website: (
blog/shop
)
Email Address:
Location:
List 5 favorite things:
(
favorite shops/blogs, things you'd like to receive, items you collect,etc
)
5 words to describe you or your style:
Anything else you'd like to mention: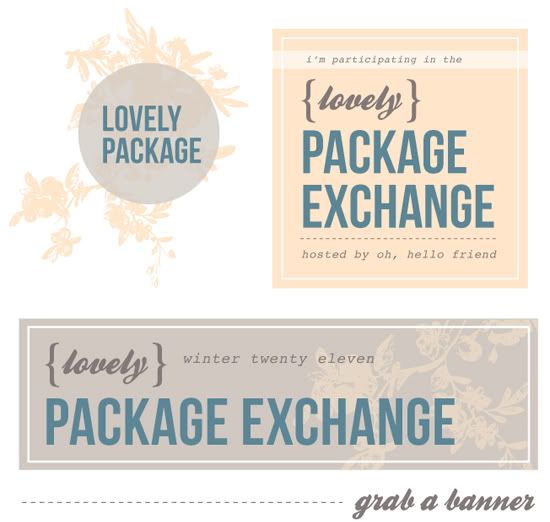 If you're participating, place a button at your blog Simply copy and paste the code below! Note: If you didn't know, you can adjust the width of the banner to fit your sidebar! Within the html code below, where it says "width="100"/> Just change that '100' number to whatever number will fit your side bar! Not sure what size fits in your sidebar? Trial and error always works best, that's what I do ;)
Button #1:
Button #2:
Button #3: