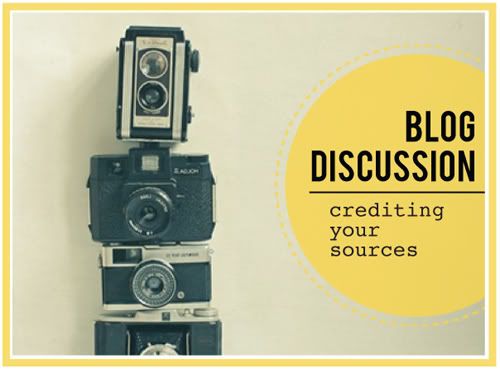 Thanks to
Lolasroom
for the beautiful photo above!
Hi friends! I know today's blog discussion topic has been discussed around the blog community several times but I am curious to get responses from my own readers :) What are your thoughts about crediting sources?
So back in the day, I used to credit photos with a plus "+" sign. I know, I know. I really thought I was sooo cool and clever by using a "+" sign (oh my young naive blogging days) The +plus sign would link to the source of the photo, but not always the source, sometimes just a weheartit link or some improper credit. Little did I know or even think about how unfair that is to the person who was due the proper credit.
If a photo you want to use doesn't have a proper credit, will you still use it? A couple months ago, I was still posting inspire lovely posts with uncredited images. I placed a note in each post that the photos didn't contain proper credits with a shout-out to ask for proper links and I would update the post. I usually received a lot of responses with helpful links. But those days of posting photos with no credits is a no-no for me now. A sweet reader told me about
Google's Image search
, which has helped tremendously in finding credits.
From time to time, I see phrases like "all photographs courtesy of Pinterest" or "source: weheartit" Do you think that is okay? Personally I think sites like pinterest, weheartit, & imgfave are fun resource sites for finding photos but not necessarily a proper credit for the photos themselves. I actually find that some of these sites often don't even have proper credits to the original source of the photo, which then makes it really hard to credit the actual source. Additionally, I have heard of some bloggers who have even taken a stand and can't/won't use sites like these (weheartit/tumblr/pinterest/imgfave) simply because of all the incorrect sources flying around all over the place.
Also - how far do you go in crediting? For example, say you find a photo from
design*sponge
that you want to post on your own blog. Would you credit it:
Photo credit: Jane Smith , found via design*sponge.
Or is the "Photo credit: Jane Smith" enough?
This topic kind of goes beyond crediting photos too. If you find a great DIY tutorial, create the DIY for yourself, and post it on your blog, would you credit the place you found the idea? Or pass it off on your own? (I am sure all your answers will be the first. But hey, you never know!)
I think at the end of the day, it all comes down to respect! We all just need to respect each other as fellow creatives, artists, friends, human beings. Give credit where credit is due and be kind and generous.
As always, this is a open and friendly discussion, all thoughts/input welcome. This discussion is not meant to point fingers or judge people for bad crediting. Just curious to hear some other thoughts/opinions out there besides my own. ;)