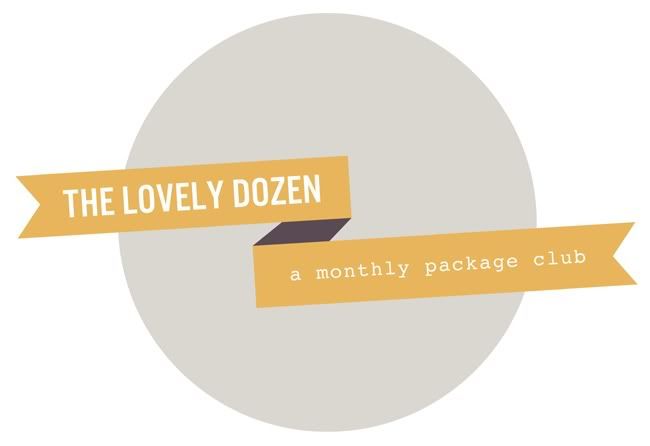 The Lovely Dozen - a monthly package club.
I've been working on this fun project for a little while now and am excited to introduce it to you. This is perfect treat for anyone who loves to receive mail! For the year of 2012, the recipient will receive 1 package a month that will include a surprise or two. It will be always be something lovely and it will always be wrapped nicely. This club will make a great last-minute gift for a friend or even for yourself! :)

Simply sign up and you're all set to receive a lovely package next year! Subscriptions are available in 6 months or 1 year packages. 6 month package is $175 and 12 months is $300. There are a limited number of packages available so sign up now! Shipping for all packages (6 or 12 months) are included in the price - please keep in mind this is a $5 value each month with postage rates going up in early 2012 and all the packaging materials.

Please make payment through Paypal, then fill out the
sign up form
!
Save $5 off your subscription by sending payment via Dwolla.
1.
What months does the club run?
the lovely dozen is available in 6 or 12 month options. Both will start January 2012. The 6 month club ends in June 2012 and the 12 month club will end December 2012.
2.
What if I want to sign up next year?
Unfortunately, subscriptions are only open for a limited amount of time and cannot start during a certain month. Sign ups will close on December 30.
3. How can I gift this to someone else?
If you'd like to send this as a gift to someone, let me know & a lovely card/package will be mailed to the recipient for a small extra fee. Deadline to sign up and have a gift package sent is December 19th.
4.
Is this offer open to international residents?
Yes, a handful of subscriptions are also available to international residents where extra costs are calculated in to account for shipping costs out of the country.
5.
What sort of things am I going to receive?
It's sort of a secret but trust me, you'll like the surprises :) There will be some monthly themes, such as accessories, jewelry, paper/stationery, travel, etc.
6.
What is the value of these items I will be receiving in my club?
The retail value on the items range anywhere from $5 - $30. Items included are valued at what you are paying for the subscription. (ie: you won't receive just 1 $5 item, you will receive a combination of items that make up the value of your subscription. This could be 1 or 2 or 3 items, it will vary monthly)
7.
When can I expect my package?
Packages will be shipped around the first to second week of every month.