Sweet friends. I mentioned that Nick and I attended a
couples retreat
our friends invited us to in Costa Mesa this past weekend. When we arrived, we found out the topic was about conflict management, which we were pretty excited about because we've struggled with conflict ever since the start of our relationship. We've known each other for going on 6 years now, been married for over a year -- and still haven't even come close to figuring out how to resolve our conflict. It's been a long journey.
Even though this may not be a topic pertaining to the blog world like "how to use twitter properly" or something like that, I thought I'd share some notes I took over the weekend because this is really kind of more important than knowing how to use twitter ;) It's real and deep life issues. and I'm sure we've all known and have had our own share of conflicts. We were really blessed by the retreat and the material we learned. Even if you're not in a romantic relationship, I think this material can totally be applied to all relationships. (I was thinking of ways to apply it with my brother, whom I get in big arguments with sometimes) If you're not big on reading a lot of content, I've included some pretty pictures in this post that you can look at too ;)
Is it normal to have conflict while you are married or in relationships? Sure. But it'
s about how you argue and how you manage conflict together. They introduced this model called "The Reactive Cycle" which is basically that every couple has a cycle that keeps us stuck. Emotional buttons get pushed and we so react a certain way.
Update: Alison noted that she's heard it called the crazy cycle,
which I kind of like better, haha ;)
Emotional buttons include feeling:
unloved, unappreciated, disrespected, failure, inadequate, unimportant, disconnected, judged, not good enough, controlled, abandoned, worthless
Reactions can be: defensiveness, withdraw, escalate, belittle, blame, control, humor, indifference, sarcasm, rationalize, independence, anger or rage, criticize, isolate, exaggerate, withhold, emotionally shut down.
So we watched a video example about a wife and husband arguing about him watching tv. The fight isn't really about him watching tv. Her emotional buttons that are getting pushed are that she feels ignored and unimportant so she reacts in anger. His emotional buttons are that he is feeling controlled so he reacts in humor and he rationalizes.
I actually came across this pdf of an entire list of buttons + reactions and meanings if you want to take a look to help you better identify your buttons + reactions during those conflicts.
This was a big eye opener for us. A lot of the time, I think the arguments between Nick and I are really silly and I sometimes wonder what is wrong with us or why we argue about such trivial things. But it helped us to realize it's not really about that fight we had over McDonalds or buying the wrong item at the store. It's feeling unvalued, unloved, disrespected, worthless and so we react with defensiveness, anger, isolation. and it's a vicious cycle.
Ways to break the cycle. There were a lot of great ideas discussed to break the cycle including things I can do and things you can do together as a couple.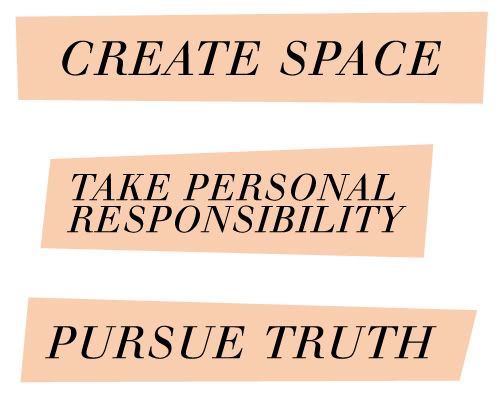 1) Create space. You may need to create physical or emotional space. It's important to step away and figure out what is going on with your emotions and feelings.
2) Take personal responsibility. Sometimes it is so easy to think "my spouse needs to change" and if we remain in this thinking, ultimately we are powerless. Take time to open your heart and reflect. Call a time out. But it's important that the person who calls the "time-out" needs to get you back together too. Otherwise no one will

initiate

and then you'll just stay in conflict! (which has definitely happened to Nick and I before ;)
3) Pursue Truth. For me personally this was a big one because I really often buy into lies. Lies like "he doesn't care/love me" and really silly stuff like that. Check your motives and heart. One of the couples were telling us about an argument they had about money they each received for a gift. The husband wanted to put it away and save it or use it toward bills and the wife wanted to spend it on something for the house. The husband said he would fall into this thinking that his wife was selfish and he had to step back and ask "Am I really thinking this about her??" because it was a total lie and we need to be careful of this.
Make sure your hearts are both open when you get back to talk. Listen to help your spouse feel understood and cared for. Real listening takes place when I am more concerned with understand what you are saying rather than you understanding what I am saying. Try to replace judgement with curiosity and be compassionate to understand what pain they are feeling.
We really need to understand the emotional subtexts of our relationships - the hidden issues and hurt feelings that need to be surfaced. If we can learn to learn to manage our cycles of conflict, then we can make our marriages more emotionally safe. We can
cultivate
intimate marriages when we learn to soften our responses and better care for our spouse's heart.
They asked the attendees what we thought the secret to a happy marriage was? Grace. Patience. Love. Forgiveness. All these words were thrown out. The answer was friendship.
I totally would have chosen love or grace or something. But they explained that friendship is something established, a deep and abiding relationship. Friends that still enjoy the same thing, and spending time together. Makes sense!
Edit

: I forgot to add this from my notes but I think it's really important. If you don't resolve your conflict in a healthy way, be careful of the path you are heading down. The reactive cycle is so destructive because it sets you and your spouse up as adversaries and makes your relationship

emotionally

unsafe. When we feel emotionally unsafe, our hearts close and we disconnect. If this pattern continues overtime, you put yourself at risk to hardening and closing your heart to your spouse. Not good! :(

also probably one of the most important points: Apologize! "I was wrong", "I am sorry", or "Please forgive me" are so huge. I've struggled with this my whole life, I have a lot of pride and it's hard to say these words. But they are powerful and healing words.
I am really glad we went to this retreat. Initially I had a quick thought like "Nick and I have a great marriage, we don't need to go to something like this" which is actually really terrible and dangerous thinking because there are always ways we can grow stronger and new things we can learn together as a couple. I really think a lot of the above information can be applied to anyone. For us personally, we will never be able to do it alone apart from God. A lot of the content also included aspects from the bible and a big one was prayer and seeking His will. Sometimes it's hard for me personally to pray when I am sooooo angry, but it is so important to pray to get my heart right and allow His love back in. In a society where divorce is so prevalent and the word love and it's feeling is so mismanaged, now more than ever we need to take a stand and be careful of allowing the devil to bring us down. he loves to spoil good things and rob us of our joy. But we have such a great hope and our relationship is rooted in Someone so much greater and stronger.
So what do you think? If you were able to read the content, I hope you are encouraged or blessed through it. It was actually great review for me to go through the notes and type key points out to share with you .. so thanks for letting me share! :)
Have you heard of this "reactive cycle" idea before?
Do you agree with this material? Disagree?
Would love to hear your thoughts and ways you've found to
manage
conflict
with your significant other!