One of my good friends, Lillian from
unstitched blog
recently got engaged (hurray!) so I asked her to share some wedding inspirations with us. She is in the first stages of deciding on invites so I'm so excited she is sharing some of her favorites here!
---
Hi Oh Hello Friend readers! I'm sure you all appreciate beautiful paper goods and lovely invitations just as much as Danni. I recently got to see
Danni's wedding invites
for the first time in person, and they are just as beautiful as the photos show. Beautiful and well thought out invitations really set the tone for the event, and they're a pretty good way to convince someone to attend. I always put lots of thought into invitations, even for regular parties. It might be easy to just send out an evite through email, but it's so much more fun to send out something tangible and creative.
I'm in the midst of wedding planning research, so I wanted to share a few of my absolute favorite wedding invitations that I've found online:
This wedding invitation is by
Julie Song
for her own wedding. I love the watercolor details, the mix of type, and the garden theme that reflected her location.
I really love the idea of an invitation in a box. It's like opening a gift! And this one comes with a beautiful little booklet. By
Oscar & Emma
.
This laser-cute invitation is brilliant. It gives the guests a peek into the location of the
wedding
, and I just love that the little trees pop up like a pop-up book!
I have always loved illustrated invites. They're so whimsical and fun. Top one by one of my favorites,
Rifle Paper Co
. Second by
Erin Jang
of The Indigo Bunting.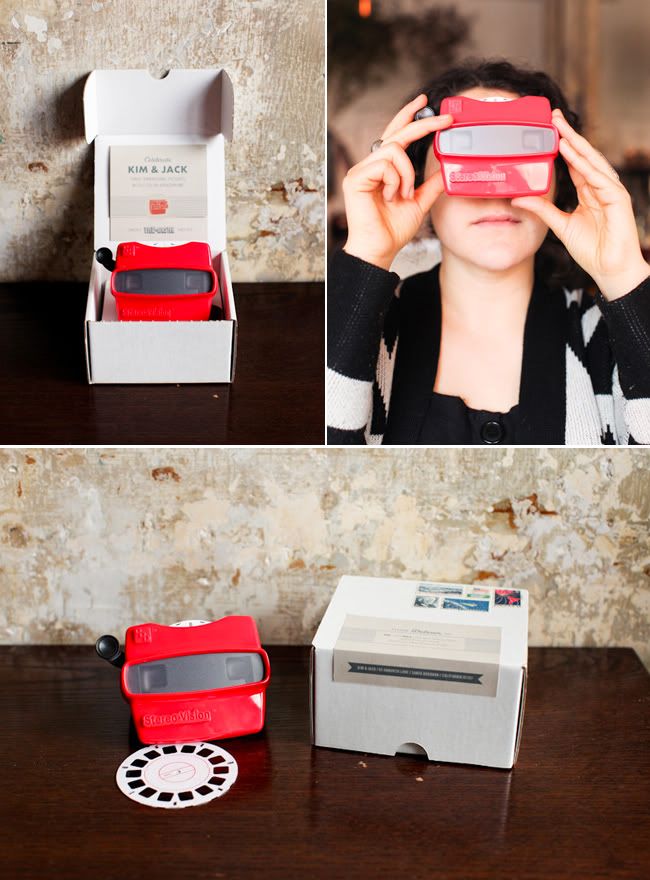 I'm sure you've seen these invites floating around the web, but I can't help but share them again here. These
viewfinder invitations
by Melangerie are a stroke of genius. How cool would it be to open a box and find an old-school toy as a wedding invitation?!
What are some of the coolest invitations you've seen around the web? Do you have any favorite trends in invitations lately (letterpress, watercoloring, etc.)? I would love to hear! -
Lillian