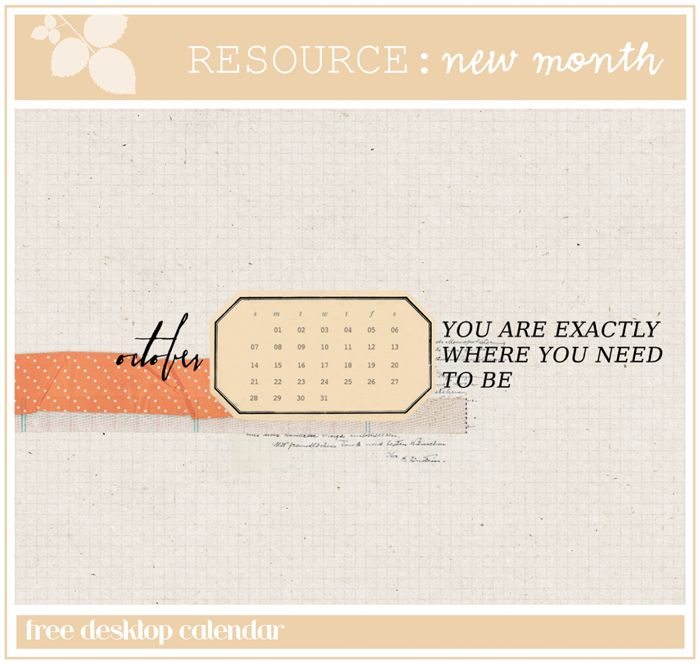 October is here! I think the month's go by extra fast when I measure them by the desktop calendars that are posted. It seems like a new one is getting posted everyday! What are you looking forward to this month? Anyone have a birthday? Celebrating their anniversary? My cousin is getting married in a couple weeks, I'm so excited to celebrate with them and see family!
I really like this quote. At times, my mind and heart feel so discontent with what I'm doing with my life - sounds so silly, I know. I think some of it has to do with all the blogs we read.. seeing some big bloggers living these fabulous gorgeous lives and I find myself comparing.. My friend Ruby actually wrote a great post about
reading blogs with discernment
. I know I am exactly where I need to be. I don't need to be taking over the world. I need to just be content. Hm, maybe that should be next month's quote? ;)
By the way, if you have any encouraging quotes or words of wisdom to share, feel free to submit it in the comments below and it will be considered for future desktop calendars :) Hope you enjoy this month's calendar friends!
1280 x 1024
1600 x 1200
1680 x 1050
1920 x 1080
1920 x 1200
ipad
cellphone
To Download: Simply click the link and it will take you directly to the image. Some computers will allow you to right click your mouse and give you the option: "Use Image as Desktop Picture" Otherwise save image to your computer and change the background in your computer settings.
To use on cellphone/ipad: the easiest way to go about it is just email the photo to yourself. Then open the email on your phone/ipad and save the photo to your phone. Then set the photo as wallpaper once you save it. :)