Business cards. What can I say? I've done quite a few posts about business cards here on the blog and have probably shared more business diy's than any other diy ;) I love them! Is anyone going to Alt this year? I am not going this year. I've gone for the past 3 years and I'm a little sad that I can't make it this year but we have a shop to open! Business cards are still on my mind and I thought I'd do another round-up of cards. Because I don't think looking at pretty business cards can ever get old! Enjoy today's collection.

simply brilliant and sweet cards
via Anna at in honor of design



via how about orange



simple and creative diy
via brittany at paper n stitch



love the use of lace and layers here!
via little red chair



little swag bag business cards
via i heart naptime



Amazing die-cut card.
via style and pepper



Free download from Amy, these tags could also make cute cards?
via eat drink chic



how about a business card that's also a matchbook? So cute!
designed by one fine dae
via August Empress


simple flag die-cut!
via shop-around



via i still love you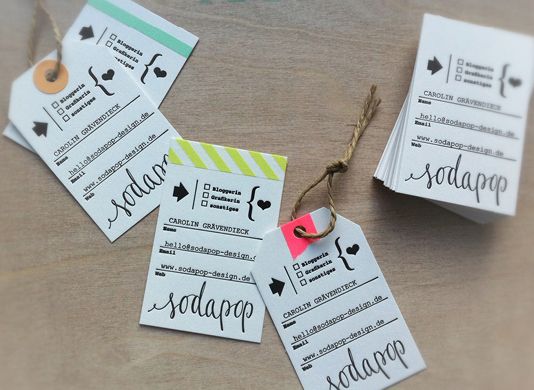 Love the use of the tape, tags, and twine!
via soda pop design

via evan carlyle @ instagram
If you're looking for some printers, I've used Moo and Vistaprint in the past. Moo now has LUXE business card printing and it looks super quality! When I need letterpress printing, I use Madeline at Panorama Press, she is awesome! Or take it to the next level with wood printing - my cousin & her husband own a wood engraving shop! I personally am a fan of gold foil printing - Morning print offers all kinds of paper types and printing, haven't used them but their prices seem really reasonable!