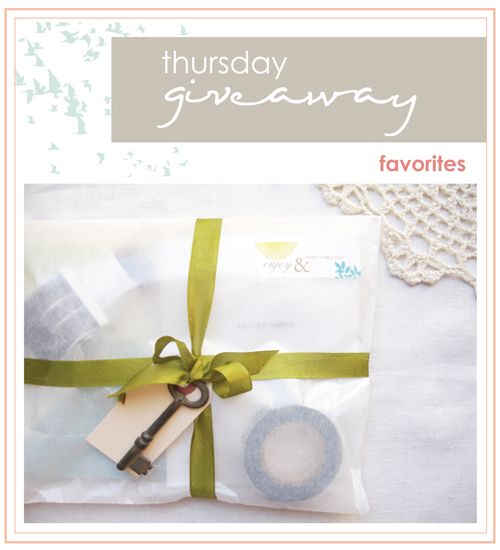 Taken from
foundpaperco's favorite post
, I thought I'd do a little 'favorite' giveaway, because I really loved this idea. So, here are a few favorite things that make me smile:
1. ruffles
2. just because gifts
3.
pretty tape
4. fonts
5.
office stamps
6. playlist.com
7. making lists, lots and lots of lists.
8.
special notes
9. graph paper, vintage paper, map paper.
10. lip balm (trying to find the best peppermint lipbalm out there)
11. old skeleton keys
12.
thrift stores
, flea markets, garage sales, swap meets.
13.
lovely packaging
14. moss green + mustard yellow + mint (not all necessarily together)
15.
applemint soap
16. traveling
17. the rain
18. cute shoes + scarves
19.
photograph + art prints
20. a pretty sunset
21. patterns, paper, envelopes, stationery
22. lace + doilies
23.
letterpress
24. white chocolate
25. cupcakes
--
So based on my favorite lists, for today's giveaway: I am giving away several items from my favorites list to share with you. Are you wondering what they are? Well, I would make it a surprise but I will just tell you instead ;) I will be sending:
- a roll of pretty lace tape.
- a lovely find from the thrift store.
- a couple letterpress cards from my collection.
- some lovely mini photo prints from ez at creature comforts.
- bar of applemint soap.
- a rubber date stamp.
-
special note
: remember
this book
i made for nicholas? i'm including a small book of notes with some small surprises! or you can request it blank and fill it out to give it to a friend!
and of course, it will all come wrapped up in a lovely package! This is definitely my favorite giveaway so far, obviously ;)
To enter, simply leave
a comment with something that you would absolutely have to have if you were stuck on a desert island
. giveaway will remain open all week and end on August 9 -- check back here for winners!
Please also leave your email address or be sure to check back here to see if you're the winner. Some of your names do not like the your blogger profile so I have no way of contacting you.
(
thanks again to Xenia for the inspiration for this post.
)