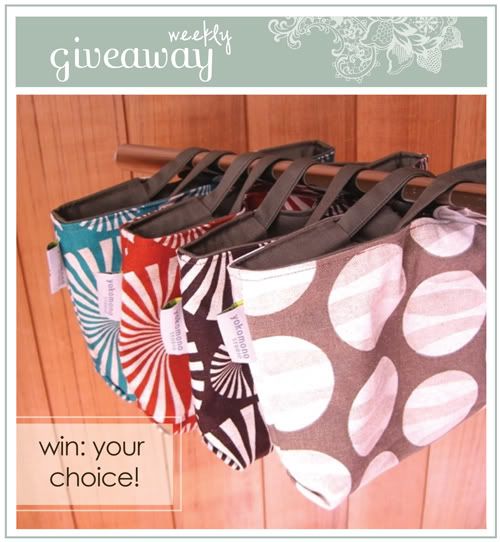 I met
Yoko
at the summer at
Renegade craft fair
in San Francisco. I was fortunate enough to be next to her and be introduced to her amazing shop! Her work is quality and each print she picks is so beautiful and unique. Her and her husband both were such down-to-earth and friendly people, her husband was also there at the show with her all day: reminding me of my supporting man always helping out. ;) Anyway, today you can win your choice of
Polopolo Multi Pocket Pouch
or
Dokodemo Bag-in-Bag
!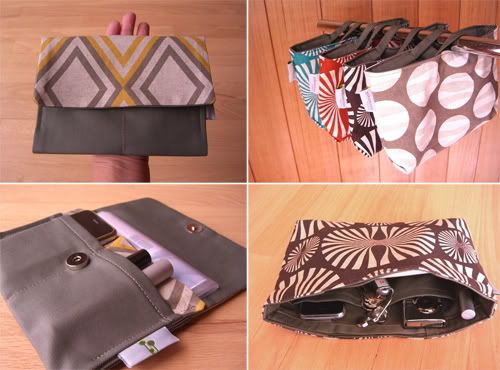 win: YOUR CHOICE!
Polopolo Pouch or Dokodemo
bag-in-bag, up to a $35.00 value!



Yoko
has also kindly offered a 20% discount off
your
entire
purchase from
yokomono studio
!
Excellent for gifts for friends or yourself :)
Enter this code and use it till the end of November!
Code
: OHHELLOFRIEND20
Discount
: 20% on ANY purchase
Valid through:
11/30/2009

Hello! Please tell us a little about you and your shop!
I'm a Japanese native and have been living in the Bay Area for about 15 years. I'm married with an 8 year old daughter & a little mutt dog named Lulu. We live in Berkeley, California.
Yokomono Studio specializes in modern bags and home accessories with a Japanese aesthetic. Blend 2 parts mid-century modern with one part functional Tokyo subway system and stir! All Yokomono Studio items are conceived, cut, sewn, and stitched by me in her Berkeley, California studio. My one and only goal is to create unique, well designed, handcrafted items that make their owners happy. Yokomono Studio was opened November 2001 -- she is one year old this month!
How did you get started sewing?
I've always liked making stuff. My earliest "creative" memory is of sewing stuffed animals when I was around 10. After graduating from college and embarking on a wildly uncreative life as a software engineer my daughter came along. As I imagine is the case with a lot of new mom's, this sparked a creative re-birth. I started making clothes for her and bags for me to carry around all of the requisite baby stuff.
Please tell us about all your beautiful fabrics and prints! Where do you gather the inspiration from?
My fabrics are made by a small upholstery fabric maker in the U.S. That's why all my fabrics are very sturdy. I select the prints that fit my taste from their collection. Whenever I go to Japan, I pick fabric there too. Inspiration might be too strong a word but I really enjoy combining the logic and simplicity of the so-called "mid-century" aesthetic with my own ingrained Japanese design sensibilities.
It's not easy to find the fabric that has clean modern/retro color & style, and I spent hours sourcing fabrics. I wish I could design fabric, but I'm not talented in the graphic design field. I cannot even draw a thing!
Any helpful advice for those wanting to start their own business?
I think that being surrounded by good people who are constantly offering up encouragement is very important. When you first get into this you will likely be racked with doubts on a fairly regular basis. If not for the encouragement I've received from others I'm sure Yokomono Studio would have fallen by wayside long ago. This really goes hand in hand with the whole cliché of "believing in yourself". Cliché but nonetheless very very true.
Favorite Inspirational Links/blogs/sites:
Visit
yokomono studio
and leave a comment
with your favorite item from the shop.
( EXTRA CHANCE TO ENTER! )
wait! there is an opportunity to gain one extra entry:
simply twitter, facebook, or blog about this giveaway
and come back and comment with the link :)




please check back next week

to see if you are the lucky winner!


giveaway ends on monday, november 30 at 8am, pst.
---
#73
, congrats to
Tali Schiffer
! please email me with your info! :)
winner chosen by random.org!