i know it's monday and we're supposed to have a giveaway today but i am trying to secure the prize ;) so i thought i'd post a recap of the show! giveaway will be coming soon!
the renegade craft fair was this past weekend: it was a blast! so many people stopped by, i got to meet so many wonderful people! here are some highlights:
- kerri from
your wishcake
! who was just as lovely as she is on her blog.
- lillian chang from
unstitched
. who was so so very sweet + we
found out we live only 15 mins from eachother! ;)
so here are some pictures of my booth..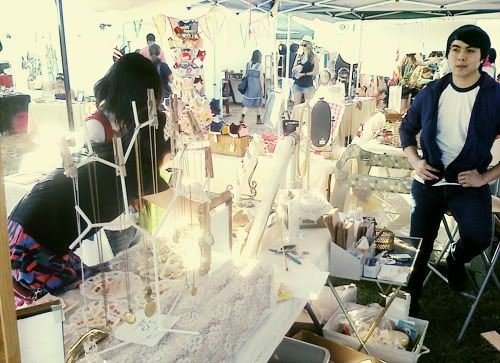 for those of you who stopped by late saturday afternoon, you may have seen my 2 brothers there! that's because nick and i were at the
LA food fest
, trying to find a food vendor for our wedding.
my bro's were super sweet to help me out. they did a great job selling and packing everything up. i think the best quote of the weekend was someone who stopped by the booth and commented to them, "i read oh, hello friend's blog.. i didn't know it was run by 2 guys!" hehehe. so cute and funny, whoever said that ;)
my sweet nicholas, he practically ran my booth the entire time!
my best selling products this show: studs, gift packs, sets, and charm buttons!
the next post is some pictures of other friend's booths around the fair!