So I thought I'd post a small preview of some of the shops participating in the 12 days of cheer, and explain what is going to happen for the next 12 days to you so you can understand what it's all about :)
What exactly is this 12 days of cheer? Like I said the other day, if you're familiar with groupon, the 12 days of cheer is something like that. I'll be posting a new store each day and they will be offering a really sweet deal on one item from their shop!
What will my savings be? Please keep in mind that all the shops participating are small businesses where all the items are handmade (minus a couple) but the discount can't be as amazing as 70% off like deals you sometimes see on groupon. The savings will be anywhere from 15% - 40% and there are limited amounts of each item available (anywhere from 10 - 30) so you may want to act quickly as the deal can potentially sell out.
How can I buy the item? Within each daily good cheer post, there will be a paypal 'buy now' button. Here is a preview of what it will look like so you will know what to look for: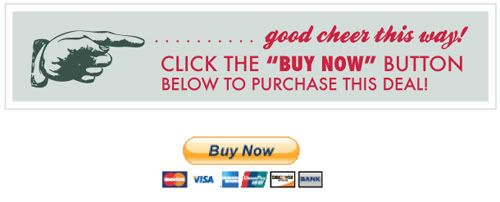 Just click the 'buy now' button and you will be able to purchase the deal directly from the post! The funds are sent directly to the shop owner and your good cheer item will be sent off! Really easy & simple. Note: Shipping fees will be added at checkout for some shops - but don't worry, everything will be noted accordingly in each post.
That's it! I hope it is simple and understandable.
I know times are hard for some of you, financial situations for some of us are different than past years and I really wanted to get some fun deals going to bring to you and spread some good cheer. :) Who doesn't like a good deal? I am really excited for this promotion and I hope you will enjoy it and maybe score a couple good deals! I am really grateful for each of the shops participating, their generosity in discounting an item to offer is what makes the 12 days of cheer possible!
If you have any questions about anything related to this promotion, please leave them in the comments below and I can update this information with more details if needed.
Okay, so have your paypal accounts ready! Tomorrow will be the start of good cheer! The deal will be posted at 8:00 am Pacific Standard Time! Happy Tuesday, friends.