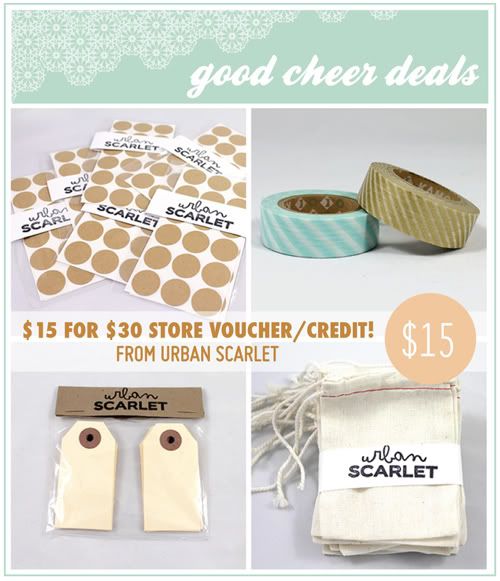 Who loves packaging supplies? I know a lot of you do ;) This week's deal is from

Urban Scarlet

- for a voucher to anything in her shop! Buy packaging stuff to your hearts content!


Item: $15 for $30 voucher for anything from Urban Scarlet !
Retail Price: $30
Good Cheer Price: $15




To purchase this deal, click the PAYPAL - BUY IT NOW button below!
(Note: If you are using google reader, button may not appear)







- Only 20 vouchers available!

- Voucher is good for 3 months from purchase date.

- This deal is only open to USA residents, sorry international friends!
- Voucher coupon will be emailed to you once purchase is complete.

- Please be sure to visit Urban Scarlet and support!

- Click the 'buy now' button to purchase this deal. Use your paypal
account to make payment directly to seller and enter your shipping
information. Then your good cheer will be on it's way!

- If the 'buy now' button is no longer working, it means the item is sold out.