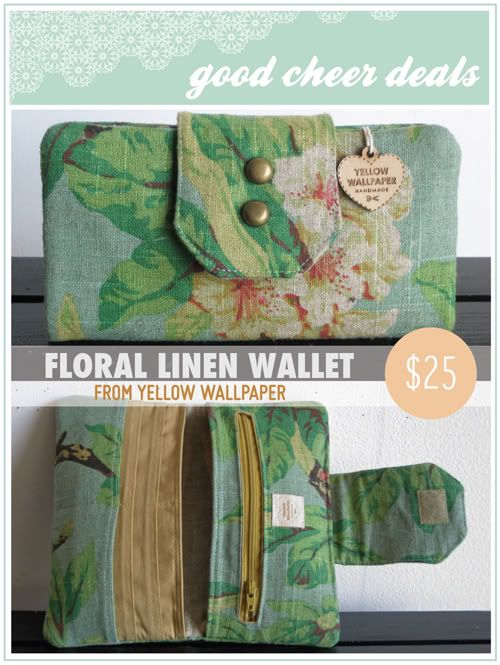 Yellow Wallpaper

offers beautifully crafted and sewn purses and wallets. I've seen Erika's items in person and I they are some of the most quality around! They are beautiful in person. Today you can purchase one of

Yellow Wallpaper's

lovely wallets.


Item: Floral Linen Wallet
Retail Price: $35
Good Cheer Price: $25 with free domestic / international shipping!




To purchase this deal, click the PAYPAL - BUY IT NOW button below!
(Note: If you are using google reader, button may not appear)







- 20 wallets available!

- This deal is open to all countries! Free shipping for domestic & international customers!

- No two wallets will look exactly alike due to the floral pattern of the linen.
This ensures each wallet is unique :)

- Please be sure to visit Yellow Wallpaper and support!

- Click the 'buy now' button to purchase this deal. Use your paypal
account to make payment directly to seller and enter your shipping
information. Then your good cheer will be on it's way!

- Deal is good all week long! If the 'buy now' button is no longer working,
it means the item is sold out.