Who out there is like me and tends to procrastinate/put things off? As you know, I am a big list maker. But I am also a big-time procrastinator. So I'll write something down, it won't get done, then it gets moved it to the next list, and to the next list, and so on. Not sure if anyone ever saw my 101 in 1001 days list, it was super inspiring at the time I made it in 2008, but 1001 days is just too long and quite frankly, a little depressing that I made it 3 years ago and completed only 20 tasks of 100! heh. I forgot all about the list back in 2009.. The end date was this last July. Plus looking back at the list now, there are some things I really wouldn't do today, so my 'goals' have changed.
Over the weekend, I was writing down some things I wanted to get done and thought I should put a time goal on each task. Then I remembered that 2011 is nearly over! Then I thought how it'd be cool to start this 12 before 2012 project, and see if anyone else is interested in participating! I am a procrastinator, but I am also someone who works well under pressure and puts things off last minute. In college, I'd start a project the morning it was due and just worked better that way, it was kind of fun! So with only 79 days left in the year, I'd say that's a good amount of time to get something significant done. It's not 1001 days, but it's not 15 either. Plus there's the incentive of being able to get some things done before the new year! ;)
If anyone is interested in participating, all you need to do is simply post a list of 12 (or 5, 10, doesn't have to be 12) things you want to get done by December 31st. The things can be big or small (but I say set your goals high and go big! The year is almost up!) Post it on your blog, then come back here and leave a comment with the link. Then I'll update this post with links from anyone who is participating.
This project would also be extra awesome if we could get some encouragement and community going, so if you're up for it, find a few lists of people you can follow over the next 2 months and encourage/keep someone accountable with their goals, and vice versa. Just a little comment like, "how are you doing with your goals?" or a link that can put them in the right direction for one of their goals - anything to encourage someone to keep going and get some things done by the new year would be great! :) What do you think? Anyone interested? I'll be blogging the progress of my personal goals throughout the next couple months and keep you updated!
---
My list of twelve before 2012:
Updated: 10/24

bold = finished!
italic = in progress

1) Living Room Project (new paint / new floors / new furniture)
Started cleaning out the downstairs. Painter scheduled to come.
Need to pick out paint colors and schedule someone to install wood floors!

2) Get my inbox to below 50 emails, or being ambitious: to 0! (it's at 300+ now)

3) Create a nice office space to work out of, ship orders from.
Started 10/24. Cleaned out office, organized. Moved in furniture.
Need to get internet at the unit... paint the wall.

4) Book Proposal

5) Launch the wanderlust
Started taking photos 10/18. Photos edited and finished 10/19.
Need to add items to shop!

6) Take an anniversary trip

7) Bake chocolate chip-less cookies

8) Clean out our garage
Started 10/15, cleaned all day. Continued to 10/16! Donated, organized,
and threw away a ton of stuff! Still some things to organize and sort through!

9) Bring back the lovely package exchange (possibly exchange for the holidays?)

10) Create some new products for holiday shows
Ideas going, new product + supplies ordered!

11) Use our Disneyland pass at least 3 times

12) Get Good Cheer Deals daily deal site going

I may not get all of these done. But it's good to have some set goals that are now out in the open! I'm determined to get some good stuff before 2012 arrives!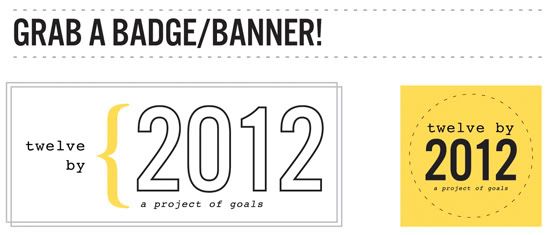 If you're participating, grab a badge for your sidebar or a banner!
(you can also use the banner at the top of this post too!)

Banner:

Square button:


Just copy & paste the code!
Hurray! We have some friends participating! So exciting! Please take a minute to visit a few lists and encourage each other in getting things done by the new year! Here is everyone who is participating in the twelve by 2012 project!
For everyone participating - maybe try documenting your goals by taking images - then blog about getting a task done or something! What better blog content than showing things you're getting done and motivating/inspiring others to do the same ;)
Tang - oui petite
Nicole - A painter's life in pictures
Erika - The Sugar Glider Adventure
Quiet Days
Megan - Little life on the Prairie
Lizzie - Justice love
Hey Caryl
Ashley - indie pretty projects
Sammich
Miguez
Heather Joy - Joy of all Crafts
Donaville - Discover Paper
Laura - Let the Real World Begin
Tiffany - Taking back Tiffany
Carla - decorativity
Vanessa - Velcro
Brooke - The Harpers
MoonDeela
Amanda - Wit and Whistle
Jamie & Jake - A Pair of Pears
Simple Bundles of Joy
Amy - In my spare time
Erica - Quirky Charm
Sidney Ann
Joanna - Tiny Elefant
Rebecca - Drunk literature
Visibly Moved
Zazazu
Rachel - tink makes art
Ginna - Life of a modest gal
Aimee - aimeeroo
Jen - Red Parka Diaries
Fiona - The Corner of the Internet I call home
Carmen - Forgotten Fancies
Rosyln - From Dull to Delight
Caro - Soda Pop Design
Jennifer - Sweet Sprout
Breanna - The Cottage Gray
Katie - The Color Happy
Judah's Blanket
Aileen - Our 5 cents
Jess - heart (comma) Jessica
Kelly - Breakfast in Bed
Linley - Since 1994
Marieke - De Mier & De Leeuw (all the way in Belgium!)
Giedre - Walking Dot Photography
Helen - Betten Court Chase
Katie - Polka Dot Soup
Adriane - the a&b stories
Kailin - The Vida Es
Rebecca - Rosie Button
LizziMarie - AppleJane
Meghan - Librarian in training
Sydney - Syd the Wyd
Caitlin - Wanderlustings
Cheryl - CherJoy
Rachel - A Green Eyed Bride
Sarah - Simply Dove
Sarah - The Cleft of the Rock
Liane - Reflection
Foilage Designs
Sarah - Eleven Things
Ruxandra - Daydreamer
Roseanna - Sepia Smiles
LoveLovely
Katie - Priceless Adventure
Raindrops and Laughter
Paradigm Shift
Karisa - Clever Thursday
Kaitlin - Kaitlin's Cadence
Stefanie - Carrying a Pearl
Meg - Gingerly
Tu Bella
Amber Kane - Fabricated Ends
Carla Brandman
What Remains Now
Erin - Not your Average Widow
Bonita Rose - A Life Unrehearsed
Serena - Pretty Fluffy
Stephanie Nelson - Come What May
Jenni - Jarfly
Victoria - Vics Better Life
Ally - Copacetic in Carolina
Kathy - The Blog Hore
Charissa - Old Enough for Fairy Tales
Mari - Life in the lower 48
Jessica - Jessica Chronicled
Lollie - Lollpampolle
Cosette
Jordan - JB Artistry
Katherine - Gathered Heart
Jill - Made it on Monday
Stephanie - Pretty Much Art
Tiffini - The House of Belonging
Kate - The Small Things
Megan Tsang
Tori - The Editorial
Lauren - Lauren Elise Crafted
Bri - Mrs. B Kim
Jena - Modish Blog
Ashley - Hidden Treasures
RJ - Richellephant Loves
Small Town 20 Something
Nani - Orange Girl Big World
Amanda - Project Simple Life
Mandi - No apathy allowed
Jamie - Making Electricity
Shanna - SoCo Divka Designs
Saroy
Amanda, Laura, Nikki - Love, White Shadow
Kristin - One Pretty Place
Carey - Little Cherry Blossoms
Mackenzie - Adorned Blog
Monique - Tipa Tipa
Jessie - one plus one design
Abby - Dirt on the rocks
Love's Modesty
Leah - Paper and Space
Julie - Very Truly Julie
Sweet Lavender Bake Shop
Soul of Heavens
Scarlet - Nutwood Studio
Twelve by One
Lara - Girl with a purple coat
Hey Caryl
Leah - Sang The Bird
Katie - Katie Bright
Tessa Marie - Nature Walk
Hhome (friend in Switzerland!)
Ashley - The Sweet Ashley Life
Keonna Renea
Bekah - Pretty Little Snippets
Emily - Blissful Inspirations
Liz - Keep it Simple Please
Made by Ida
Allison - Our Vintage Love
Emily - Travel with Emily
Brooke - The Closet Domestic
Charlotte - Craft Calm
April - Designs of Artisan
Kimberly - Everyday Clouds
Andrea - The Yellow Cottage
(Hope I got everyone! If I missed anyone's link, please email it to me!)
---
So even if you're not participating, what sort of things would
be on your list of goals to get done by the new year? :)