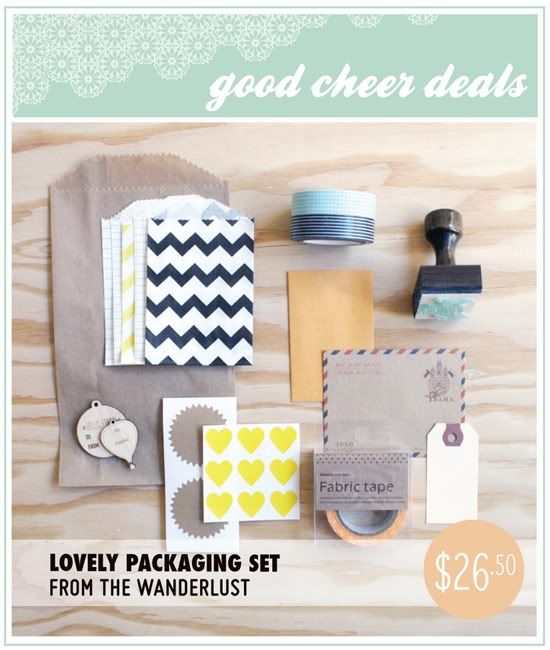 Hi Friends! Sorry for the late post today.... I'm almost ready to launch

the wanderlust

so I thought I'd post a little deal of my own this week. Plus, there will be quite a few packaging posts this week so I thought I'd start the week off with a packaging deal. Enjoy!


Item: Lovely Packaging Set!
Set includes the following items:
- 5 kraft bags, 5" x 7 1/2"
- 5 mini bags, 1 of each pattern
- 1 roll of yellow fabric tape, polka dot
- 5 manila gift tags
- 4 kraft starburst labels
- 9 yellow heart seals
- 2 wood gift tags
- 1 'you are loved' rubber stamp
- 5 gift coin envelopes
- 5 small airmail envelopes
- 2 rolls of washi tape, black stripe + blue grid
Retail Price: $50
Good Cheer Price: $26.50 with free shipping / international shipping is just $5!




To purchase this deal, click the PAYPAL - BUY IT NOW button below!
(Note: If you are using google reader, button may not appear)





- Only 10 packaging sets available

- Please select "usa" or "international" resident from the drop down options.

- This deal is open to all countries! Free shipping for domestic
customers & only $5 international shipping!

- Items are in stock and ready to ship!

- Click the 'buy now' button to purchase this deal. Use your paypal
account to make payment directly to seller and enter your shipping
information. Then your good cheer will be on it's way!

- If the 'buy now' button is no longer working, it means the item is sold out.