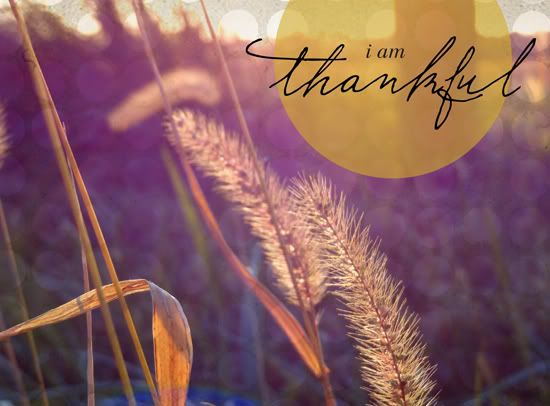 Today is a holiday here in the usa, it's Thanksgiving. This week, I've been blogging about 10 new things each day that I am thankful for. My 10 for today are:
1) Family + having a place we can go to celebrate today.
2)
That we can spend time with my Grandpa + Grandma today for Thanksgiving.
3) Water. There's nothing more refreshing than ice cold water on a hot day.
4) Insurance. We're getting our wisdom teeth out on Monday and thank goodness for insurance through Nick's work!
5) That my dad and his family got back home safe from Vietnam yesterday
6) Children. they're so precious. Can't wait to have our own.
7) Traveling. the ability to travel and opportunities we have to go explore new places
8) Books and great authors who have the creativity to write and tell stories.
9) Blogs. I love this blog community and all the friends I would have possibly never known if I never had a blog.
10) My future. Whatever that may be or whatever it holds, I am thankful and excited for it!
Whatever your plans are for today, I hope you can spend it with loved ones and that your day is blessed!