Did anyone go shopping last night or today? Nick and I got a little caught up in the black friday madness. We headed to Wal-Mart and got a steam cleaner for my mom, and a vacuum for our new floors. Then we headed to the mall at midnight, saw the lines, turned around and went home .. but we ordered some stuff online :) Anyway, oh, hello friend is jumping in and having a tiny black friday sale. These deals are open to all residents, good while supplies last.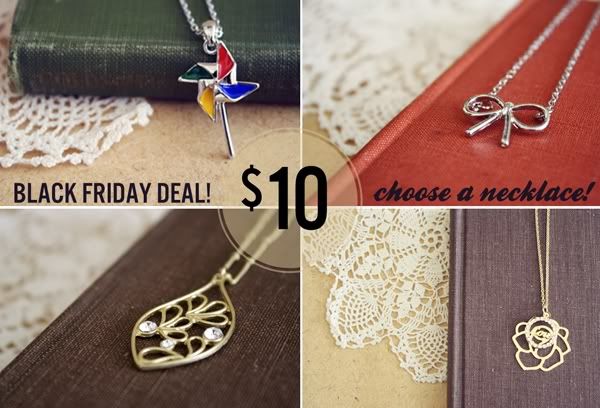 Choose from 4 necklaces for only $10 with shipping included! Necklace styles include: Colorful pinwheel, silver bow, gold leaf with rhinestones, and Gold rose with "love" written inside. All necklaces hang on 18" chain.
update: sorry friends, the button apparently wasn't working but now it is for the necklaces. :) here you go!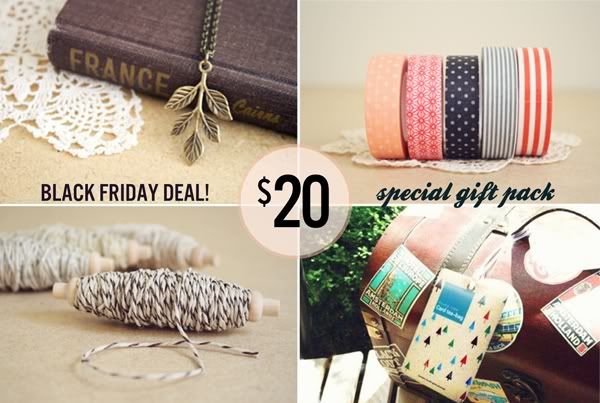 Grab a gift pack of oh, hello friend goods for only $20 with shipping included! This exclusive special black friday gift pack includes:


- Antique brass leaf necklace on 18" chain
- Luggage Tag
- Roll of washi tape
- Spool of metallic twine
- 1 extra surprise item!

Retail Value: $40

Please note the pattern on the luggage tag, tape, and metallic twine will vary. To purchase this deal, click the paypal button below: