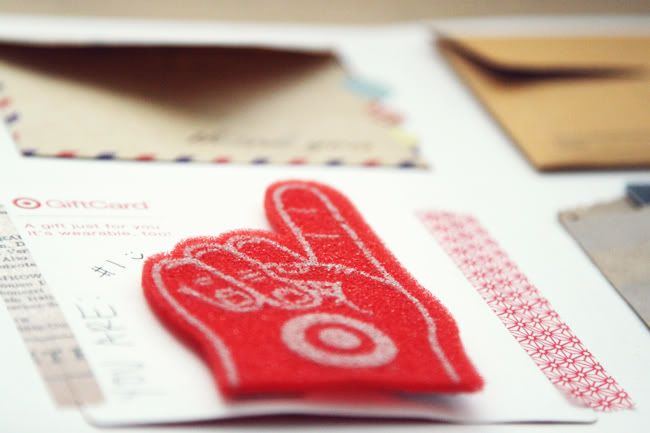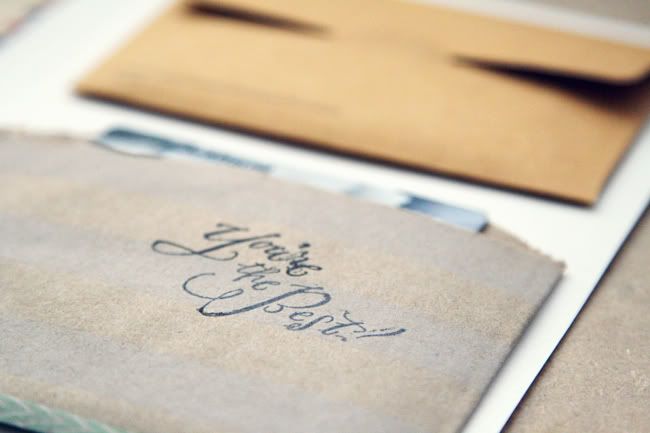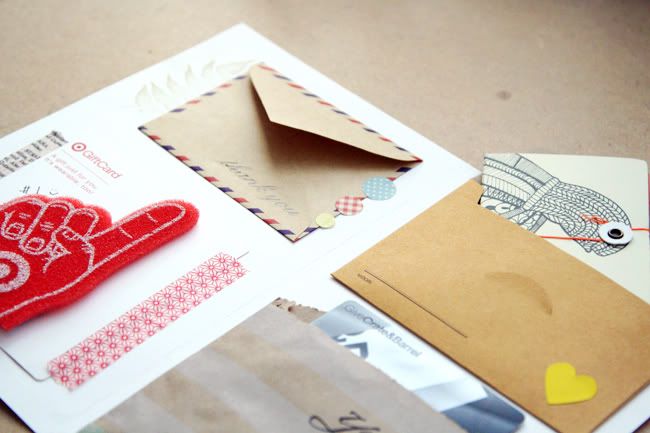 Nick & I go to San Francisco quite often for craft shows. My cousin Samantha lives in SF and is so sweet to let us stay with her every time. We call her place, "hotel sam" now ;) One time she still let us stay even though she was out of town. Last time we went, she had rotisserie chicken and green beans ready for us when we got there at midnight. Nick said he felt like a kid and like 'mom' was taking care of us. lol. I have some pretty great relatives. My cousin recently made a move to a new place.


To show some appreciation for always so generously and willingly opening hotel sam up to us, I decided to make her a card of gift cards. These are a fun + simple gift. I just fold a piece of paper in half and add envelopes for the gift card and notes. I grabbed a couple gift cards to places I thought she'd like that included home decor for her new place. I love Target gift cards, isn't that #1 foam finger card cool? Anyway, this idea can easily be used for birthdays or any special occasions. Just fill them with the person's favorite stores or whatever! I know gift cards aren't super personal but I love picking out my own things sometimes so I guess that's why I thought it'd be nice to let her pick out her own things for her new place.
Anyway! It's Friday, hurray for the weekend!
This weekend we are going camping with this dear friend and her fiance. Nick has actually never been camping.. unless you count sleeping in a tent in your backyard ;)
We ended up not going :( Our schedule is so crazy right now. I wish we could do it
all
. or be in 2 places at once. or just slow down in life to be able to have time to go camping. I don't know. I was thinking about doing a post about this or something. Anyway, thanks for sharing all your stories from
Monday's post
, it was so fun to read them while I was at my show! Have a good one and see you next week friends :)